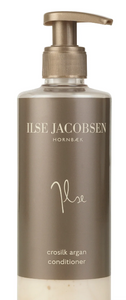 Nourishing and moisture binding conditioner, which gives smooth and shiny hair. Silke protein makes your hair easy to comb and style. Argan Oil adds proteins which strengthen your hair. Ideal as hair repair.
Active ingredients / Crosilk, Argan Oil, Panthenol B5 and Sea Buckthorn.
Fragrance notes / Mandarin, Spearmint, Rose, Violet, Musk and Cedarwood.
100% recyclable.
Due to natural, active ingredients in the product, colour and texture may vary and should not be seen as defects. These characteristics enhance the beauty of the product, and make each product unique. To maintain the original appearance of the product, we recommend that you treat this item with care and limit exposure to direct heat or sunlight.