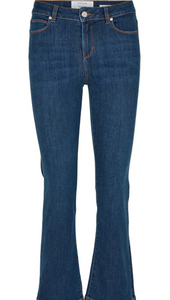 Our Jelena Support Jeans wash Verona comes in a matted, medium blue denim color with contrast stitching. It has a skinny fit, high waist and kick flare leg.

With the kick flare leg, this fit is great for shorter legs and just begging to show off your best pair of shoes.

- Skinny fit
- High waist
- Kick flare leg
- Zip and button closure
- Five pockets
- Stretch

Our supporting stretch program combines maximum comfort with great holding power. With incredible elasticity, this garment is extremely comfortable to wear. The fabric has a high recovery, meaning that the garment will stay true to its size throughout the stage of usage. In other words, this garment will not end up a size bogger after a day of wearing, nor get bulky knew. From an environmentally friendly aspect, this also means you can wash your jeans less as they will stay true to size.
Style no. J234203
Quality: Cotton 64% Recycled Polyester 22,5% Reused Cotton 11% Elastan 2,5%